Temporary roof anchor static lines | Permanent roof anchor static lines | Australian standards requirements, regulations and compliance (2023)
CLICK ON ABOVE IMAGE TO BUY NOW / LEARN MORE
Need Australian Standards static line systems and compliance documents to AS/NZS
"WE HAVE YOU COVERED"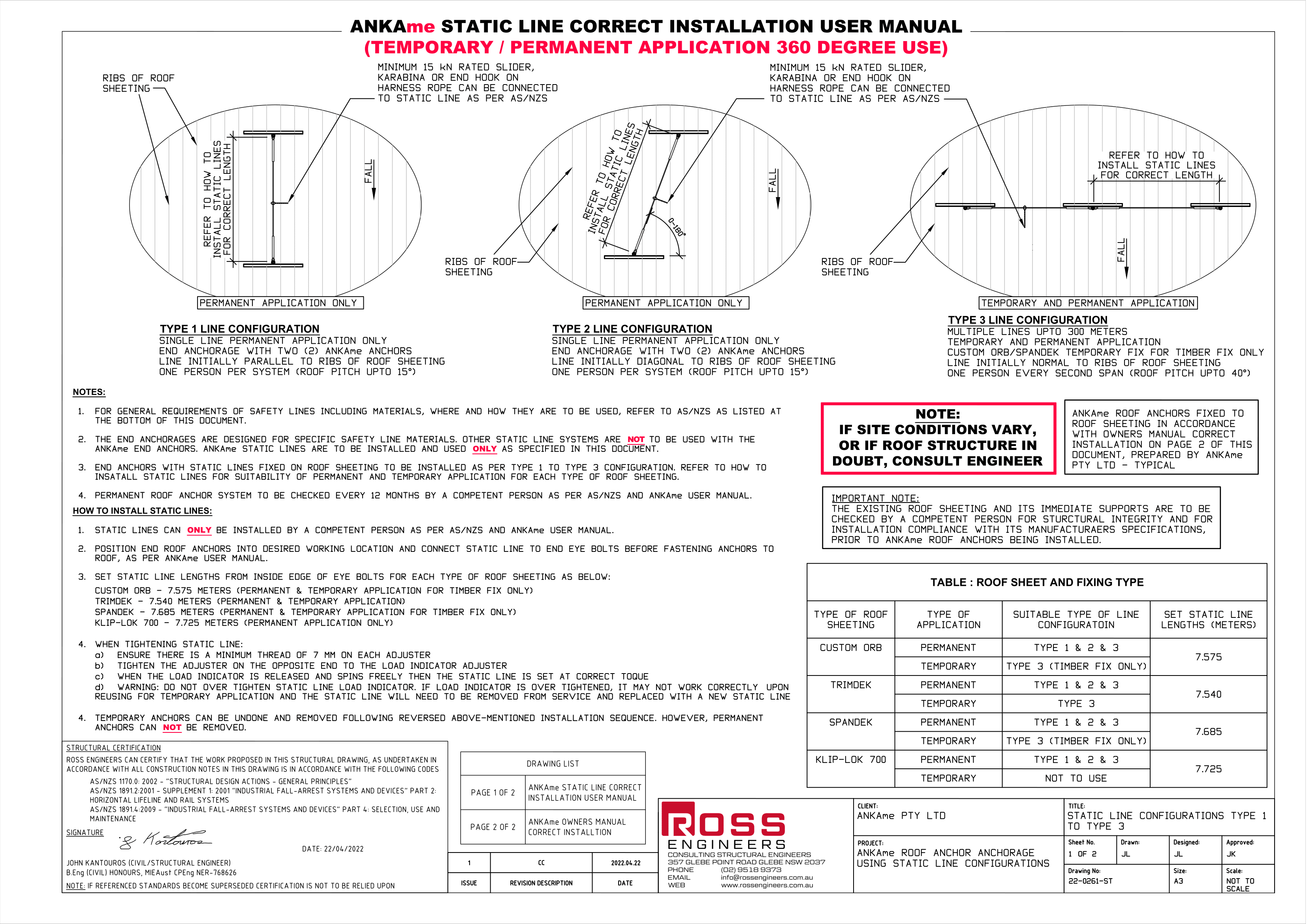 Travel restraint systems - Permanent static lines & Temporary static lines

Static lines also known as a horizontal static line system or a travel restraint system, prevent user's from moving into a fall hazard area by limiting their movement beyond a certain point. This is commonly used when it's not possible to use a physical barrier like a guard rail or scaffolding as edge protection or where end anchor points may not be the best solution
Static line systems and Australian standards
ANKAme static line systems are fully compliant to Australian standards AS/NZS 1891.2:2001 supplement 1:2001 part 2, as per the falls code of practice
The kind of height safety arrangement used in a roof anchor static line system would be two ANKAme roof anchors conjoined with one stainless steel static line cable (Generic set length 7.6 meters with twin adjusters and a single load indicator attached to the static line system)
Static line AS/NZS requirements clearly state that a static line system must be installed and used by a "competent person as per manufactures installation user manual" if in doubt ask. The harness rope is then connected to the static line as per manufactures instructions and user guide, which is then connected to the user's harness connected by a shock absorber lanyard. This might be a temporary roof anchor static line set up for a one-off job or permanent roof anchor static line arrangement for more frequent roof maintenance.
Who can install static lines
ANKAme roof anchor static lines can be installed and used by a "competent person" as per AS/NZS and as per manufactures user manual, temporary or permanent application. Not competent "that's ok" contact us and we can have one of our preferred competent installers install your static line systems and height safety requirements in a state near you. If in doubt ask, as per AS/NZS requirements.


What is a static line system
A roof anchor static line system consist of using a combination of compliant height safety products, that include tested and complaint end roof anchor points that are rated to 15kN of "load" and must comply with AS/NZS 1891.4:2009 requirements, roof anchors are generally attached to either end of the static line cable. The static line cable must meet minimum braking strengths as outlined in AS/NZS 1891.2:2001 Supplement 1:2001 part 2, the static line cables are generally attached to the end roof anchor points and the static line cable is then tightened using a inbuilt adjuster that can be easily adjusted manually, there is a load indicator at the end if the static line system that is released once the static line has been adjusted to the correct tension. The ANKAme static line installation method for permanent static lines and temporary static lines is the same method, products must be installed and used by a competent person as per manufactures installation user manuals and AS/NZS.


Need a structural engineer to provide you with a roof anchor static line design layout
No problem, contact us and our preferred structural engineer can assess your job and provide you with a proposed roof plan mark up for a competent person to install the height safety systems required. For pricing contact us.
AS PER THE SAFE WORK AUSTRALIA AND SAFE WORK NSW FALLS CODE OF PRACTICE ROOF ANCHOR POINTS AND STATIC LINE SYSTEMS MUST COMPLY TO THE RELEVENT STATNDARDS.
Make sure your static line system complies with the relevant standards
AS/NZS 1891.4:2009 selection, use and Maintenace, includes roof anchor testing and compliance
AS/NZS 1891.2:2001 Supplement 1:2001 part 2 horizontal static line systems, compliance
Temporary static line systems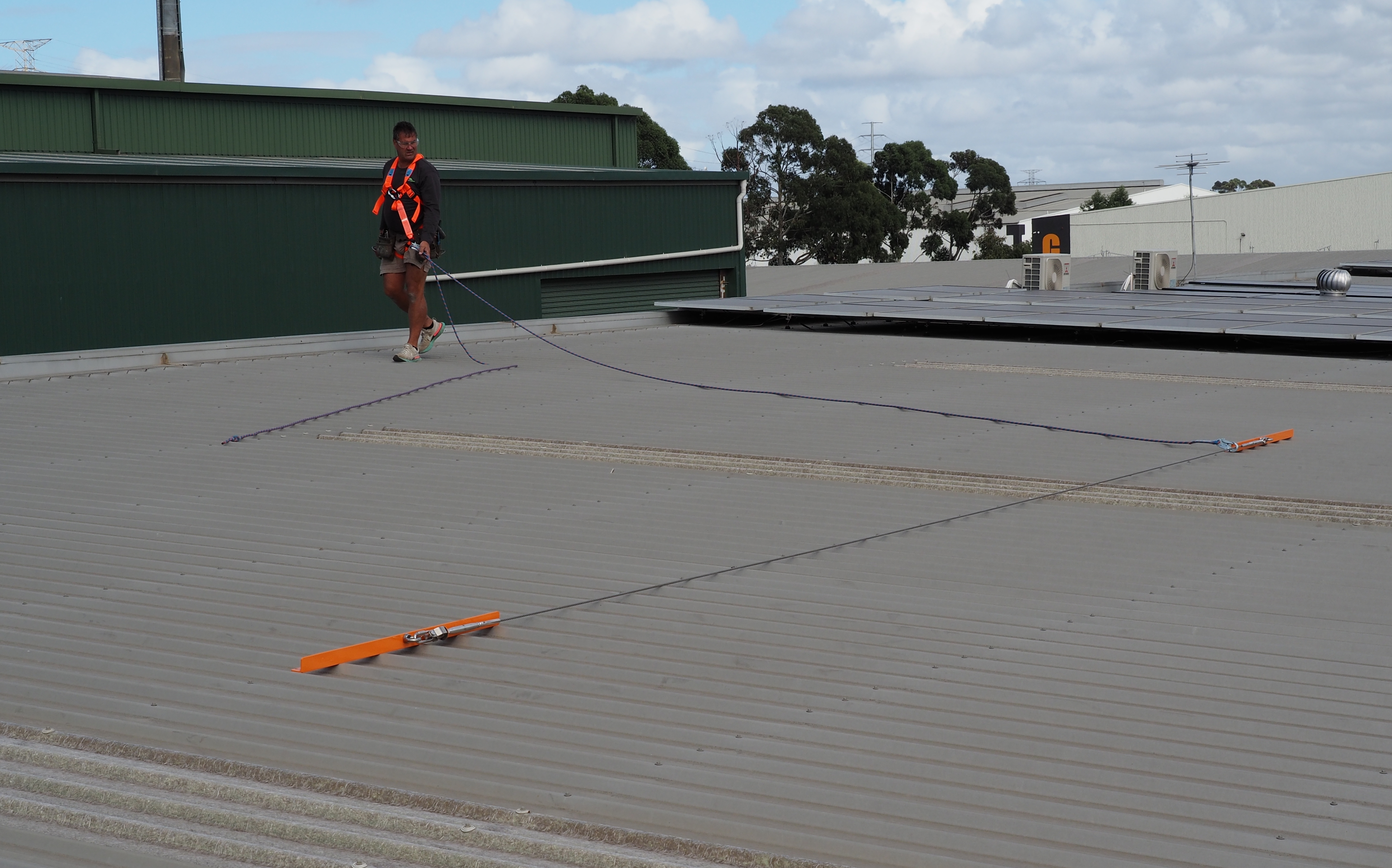 Permanent static line systems